Parlamenttisampo

eduskunta semanttisessa webissä
Projektin kuvaus
Semanttinen parlamentti (SEMPARL) on konsortiohanke, jossa luodaan eduskunnan tietokannoista uudenlainen linkitetyn avoimen datan (Linked Open Data) palvelu ja tutkimusympäristö, "Parlamenttisampo", jonka avulla hanke tutkii parlamentaarista politiikkaa ja poliittista kulttuuria. Hanke rakentaa semanttisen webin teknologioille perustuvan julkisen avoimen palvelun tutkijoita, kansalaisia, mediaa ja valtionhallintoa varten, ja rikastaa eduskuntadataa muilla tietolähteillä kuten biografisella tiedolla, sosiaalisen median tiedoilla (Twitter) ja lainsäädännöllä. Tutkimushanke on kiinnostunut parlamentaarisesta, edustuksellisesta kulttuurista ja poliittisen kielen käytöstä pitkällä aikavälillä, ja tarkastelee näitä kansanedustajien, heidän verkostojensa, lainsäädäntötyön ja poliittisen kommunikaation kautta. Hanke tutkii myös uusien digitaalisten viestimien vaikutusta parlamentaariselle kulttuurille.
Alla oleva eduskunnan esittelytilaisuudessa esitetty video esittelee hanketta yleisesti ja demonstroi Parlamenttisammon käyttöä:
Tässä videossa esitellään hanketta hieman laajemmin:
Seuraavassa videossa kerrotaan tarkemmin Parlamenttisampoon kuuluvasta poliitikkojen toimintaa kuvaavasta tietämysgraafista. Eduskunnan yli 900 000 puheesta muodostettua, edelliseen linkittyvää tietämysgraafia on esitelty tarkemmin julkaisuissa (Sinikallio et al., 2021) ja (Hyvönen et al., 2021).
Hanke on osa Suomen Akatemian rahoittamaa DIGIHUM 2020-2022 -ohjelmaa. Hanke liittyy myös SeCo-ryhmässä menossa olevaan hankekokonaisuuteen Suomen lainsäädännön ja oikeustapausten julkaisemiseksi avoimena linkitetyn datan palveluna "Semanttinen Finlex" ja loppukäyttäjien "Lakisampona".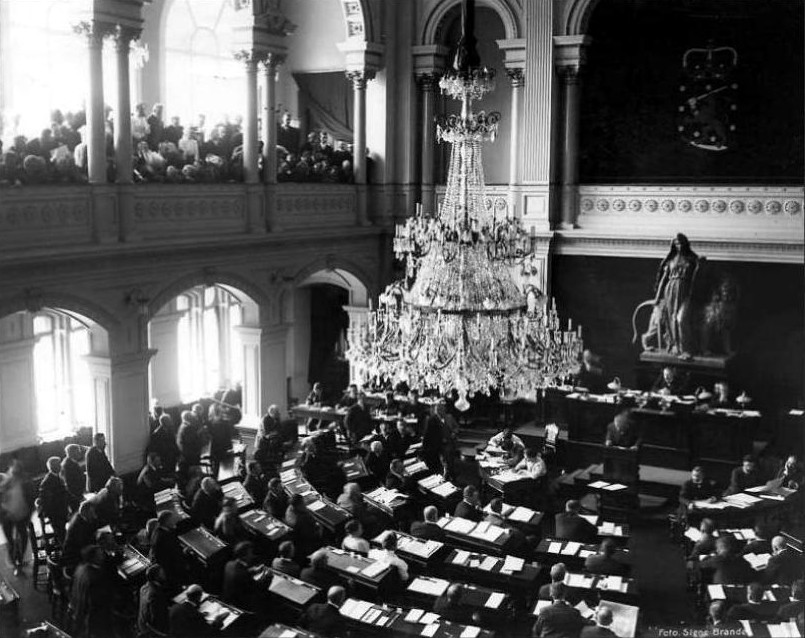 Eduskunta koolla VPK:n talolla 1907
Tulokset
Hankkeessa luodaan avoin kotimainen ontologia- ja tietoinfrastruktuuri eduskunnan aineistojen julkaisemiseksi ja rikastamiseksi linkitettynä avoimena datana. Aineistoja yhdistetään mm. Lakisampoon (lainsäädäntö, oikeustapaukset, hallituksen esitykset ym.) ja Biografiasampoon (poliitikkojen elämäkerrat ja historiallisten henkilöiden verkostot). Tulos julkaistaan avoimena linkitetyn datan palveluna Linked Data Finland -alustalla. Työssä voidaan hyödyntää Semanttisen laskennan tutkimusryhmän (SeCo) 'Sampo-mallia' ja -ohjelmistoja, ja työ yhdistyy laajempaa hankekokonaisuuteen LODI4DH, jonka tavoitteena on rakentaa kansallista digitaalisten ihmistieteiden linkitetyn datan tietoinfrastruktuuria.
Projektin tuloksia 10.11.2022 mennessä on esitelty alla olevassa videossa.
Infrastruktuuria ja sille kehittäviä työkaluja pilotoidaan eduskunnan historian, poliittisen kulttuurin ja kielen tutkimuksessa.
Muita semanttisen webin "sampoja" verkossa
Semanttisen laskennan tutkimusryhmä (SeCo) on julkaissut verkossa useita digitaalisten ihmistieteiden "sampoja" tutkijoiden ja laajemman yleisön käytettäväksi:
Projektin organisaatio
Konsortiohankkeessa on mukana kolme yliopistoa.
Helsingin yliopisto, digitaalisten ihmistieteiden keskus HELDIG. HELDIG koordinoi koko hanketta ja keskittyy omassa tutkimuksessaan mm. kieliteknologiaan ja data-analyysiin. Hanketta vetää prof. Eero Hyvönen Semanttisen laskennan tutkimusryhmästä (SeCo).
Aalto-yliopisto, tietotekniikan laitos. Aalto-yliopisto keskittyy hankkeessa erityisesti semanttisen webin teknologioiden kehittämiseen sekä datapalvelun ja semanttisen portaalin toteutukseen. Aallon osuuden vetäjä on TkT, Staff Scientist Jouni Tuominen Semanttisen laskennan tutkimusryhmästä (SeCo).
Turun yliopisto, eduskuntatutkimuksen keskus. Turun yliopiston roolina hankkeessa on eduskunnan toimintaan ja aineistoihin liittyvä tutkimus. Turun osahanketta johtaa dosentti Kimmo Elo.
Hanke tekee yhteistyötä useiden kotimaisten tahojen kuten eduskunnan ja oikeusministeriön kanssa, joiden aineistot ja toiminta muodostaa perustan koko hankkeelle. Hankkeen kotimaiseen ohjausryhmään kuuluvat osahankkeiden vetäjien ohella Matti La Mela (Aalto), Ari Apilo (eduskunta), Sari Wilenius (eduskunta) ja Aki Hietanen (oikeusministeriö). Lisäksi projektilla on kansainvälinen neuvottelukunta (Advisory Board), jossa ovat mukana Dr. Laura Hollink (CWI, Centrum Wikunde & Informatica, Amsterdam), Prof. Bruno Martins (University of Lisbon) ja Prof. Andra Siibak (University of Tartu, Estonia, Institute of Social Studies).
---
Julkaisuja
2022
2021
2020