SeCo News
In/Tangible European Heritage: New EU project starting in SeCo

6.8.2020 8:57 by eahyvone
The idea of the new 3-year project is to study how intangible cultural heritage, especially biographical data about historical persons and their lives, can be integrated and enriched with tangible cultural heritage data in museums, archives, and libraries, and how such massively interlinked data can be used in Digital Humanities (DH) research and applications. From a methodological viewpoint, the project develops and integrates language technologies, semantic web technologies, visualizations, network analysis, and artificial intelligence into a new whole, with the aim of developing cross-language, cross-national DH systems with novel features, such as automatic serendipitous knowledge discovery, a kind of computational creativity.
The Finnish partners in the consortium are the University of Helsinki (HELDIG) and Aalto University, building on the previous research in these topics at the Semantic Computing Research Group (SeCo) active at both universities.
HELDIG Facebook posting:
https://www.facebook.com/groups/1697627697233461/permalink/2608021642860724/
Project homepage at SeCo:
https://seco.cs.aalto.fi/projects/intavia/
---
New SeCo papers accepted for ESWC 2020

23.4.2020 8:02 by eahyvone
Five SeCo papers will be presented at the Extended Semantic Web Conference ESWC 2020 and its workshops
Three papers of SeCo were accepted for the ESWC 2020 conference in the posters and demos track:
1. Minna Tamper, Arttu Oksanen, Jouni Tuominen, Aki Hietanen and Eero Hyvönen: Automatic Annotation Service APPI: Named Entity Linking in Legal Domain. Proceedings of ESWC 2020, Posters and Demos, Springer-Verlag, June, 2020. Accepted.
2. Eero Hyvönen, Minna Tamper, Esko Ikkala, Sami Sarsa, Arttu Oksanen, Jouni Tuominen and Aki Hietanen: Publishing and Using Legislation and Case Law as Linked Open Data on the Semantic Web. Proceedings of ESWC 2020, Posters and Demos, Springer-Verlag, June, 2020. Accepted.
3. Heikki Rantala , Esko Ikkala, Ilkka Jokipii, Mikko Koho, Jouni Tuominen and Eero Hyvönen: WarVictimSampo 1914-1922: A Semantic Portal and Linked Data Service for Digital Humanities Research on War History. Proceedings of ESWC 2020, Posters and Demos, Springer-Verlag, June, 2020. Accepted.
In addition, two papers will be presented in the co-located WHiSe 2020 Workshop:
1. Pejam Hassanzadef, Eero Hyvönen and Esko Ikkala: FindSampo Platform for Reporting and Studying Archaeological Finds Using Citizen Science. 3rd Workshop on Humanities in the Semantic Web (WHiSe), CEUR Workshop Proceedings, May, 2020. Accepted.
2. Minna Tamper, Petri Leskinen, Jouni Tuominen and Eero Hyvönen: Modeling and Publishing Finnish Person Names as a Linked Open Data Ontology. 3rd Workshop on Humanities in the Semantic Web (WHiSe), CEUR Workshop Proceedings, May, 2020. Accepted.
Prepints of the papers are available at:
https://seco.cs.aalto.fi/publications/
---
New Sampo portal released: MMM ? Mapping Manuscript Migrations

31.1.2020 12:08 by eahyvone
On Jan 30th, 2020, at the Digging into Data conference in Alexandria, VA, USA, a new semantic portal and data service for pre-modern manuscript data was released:
https://mappingmanuscriptmigrations.org/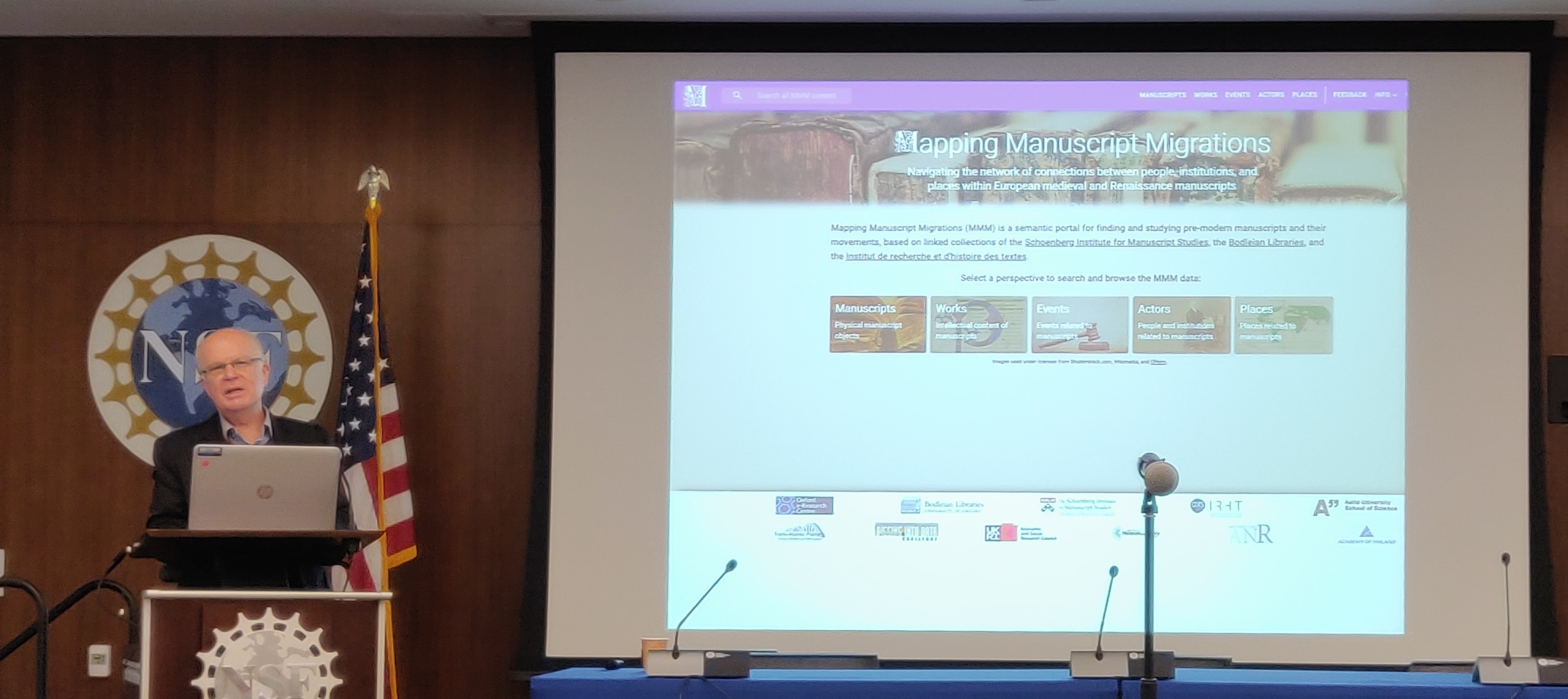 This massive system contains data about some 420 000 manuscript works and 670 000 events related to them in a knowledge graph of over 20 million triples. The portal and its Linked Open Data service was created by SeCo using the Sampo model in collaboration with academics at the University of Oxford, University of Pennsylvania, and Institut de recherche et d?histoire des textes (IRHT) in Paris, based on their manuscript collection databases.
More info available on the project homepage.
Our project is part of the Trans-Atlantic Digging into Data programme 2017-2020, funded by Academy of Finland in Finland.
---
New doctoral thesis and defense at SeCo by Kasper Apajalahti

17.11.2019 8:54 by eahyvone
Kasper Apajalahti defended his thesis "Contributions to Self-Organizing Networks and Network Measurement Data Management" on November 15, 2019, at the Aalto University. In the image, Kasper is in the middle, opponent prof. Bernhard Bauer of the University of Augsburg on the right, and custos prof. Eero Hyvönen on the left.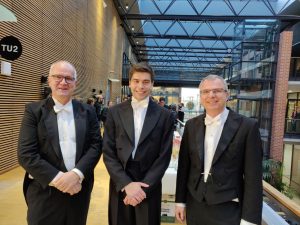 ---
NameSampo: yet another semantic sampo portal released

13.2.2019 13:53 by eahyvone
On Feb 1, 2019, 'NameSampo: A Linked Open Data Infrastructure and Workbench for Toponomastic Research' was released in an
open seminar in Helsinki. The service at http://nimisampo.fi got 9500 users during the first weekend.
More information about the system is available at the project home page.
---
BiographySampo released for public use

16.11.2018 21:00 by eahyvone
The next major semantic "Sampo" portal developed by SeCo, "BiographySampo – Finnish Life Stories on the Semantic Web", was released for public use on Sept 27, 2018, based on 13,100 biographies of the Finnish Literature Society. More info about the system can be found on the project homepage and the service is alive at: http://biografiasampo.fi
---
New text book about Semantic Web and Linked Data in Finnish

11.4.2018 12:28 by eahyvone
The first text book about Semantic Web and Linked Data in Finnish, based on work and experiences at SeCo, has been published: E. Hyvönen: Semantic Web. Handbook of Linked Open Data (Semanttinen Web. Linkitetyn avoimen datan käsikirja). Gaudeamus, 2018. https://www.gaudeamus.fi/semanttinen-web/
---
WarSampo Wins the Open Data Prize in the 2017 LODLAM Challenge

4.7.2017 15:52 by eahyvone
The WarSampo team of SeCo was recognized for making cultural heritage material openly available in the linked open data project "WarSampo — Finnish World War 2 on the Semantic Web":
http://cs.aalto.fi/en/current/news/2017-07-04/
More info about the project, data service, and applications:
http://seco.cs.aalto.fi/projects/sotasampo/en/
---
Doctoral Defense in SeCo on Ontology Services

12.6.2017 13:48 by eahyvone
Jouni Tuominen will defend his dissertation "Ontology Services for Knowledge Organization Systems" on 16 June 2017 at 12 noon in Aalto University, lecture hall TU1, Maarintie 8 (former Otaniementie 17), Espoo.
http://www.aalto.fi/en/current/events/vaitos_tuominen_jouni/
Before the defense, at 10:00, the opponent prof. Marcia Zeng from Kent State University, USA, will give an invited lecture "Smart Data for Digital Humanities".
http://cs.aalto.fi/en/current/events/2017-06-06/
---
HELDIG-keskuksen johtajasta professori Eero Hyvösestä Vuoden Norssi 2017

13.5.2017 18:12 by jwtuomin
Helsingin yliopiston digitaalisten ihmistieteiden keskuksen (HELDIG) johtaja ja Aalto-yliopiston semanttisen mediatekniikan professori Eero Hyvönen (http://seco.cs.aalto.fi/u/eahyvone) lakitettiin Norssin päivänä 12.5. Vuoden Norssiksi 2017. Helsingin Normaalilyseo viettää vuonna 2017 150-vuotisjuhlavuottaan.
Norssin 150-vuotisjuhlavuoden kunniaksi tilaisuudessa julkistettiin sovellus ?Vanhat Norssit uudessa semanttisessa webissä?. Hyvösen johtama semanttisen laskennan tutkimusryhmä SeCo (http://seco.cs.aalto.fi) digitoi juhlavuoden kunniaksi Norssin matrikkelit ja kehitti matrikkelidataan perustuvan digitaalisten ihmistieteiden sovelluksen, jonka avulla voi hakea ja yhdistää historiallisista tietoa yli 10 000 norssista vuosilta 1867-1992 verkon eri tietolähteistä sekä analysoida vanhoihin norsseihin liittyvää dataa ja verkostoja. Sovellukseen ja sen taustalla olevaan tutkimukseen voi tutustua täällä: http://www.norssit.fi/matrikkelit.html
Hyvösen luotsaama SeCo-tutkimusryhmä kehittää tekoälyyn perustuvaa web-teknologiaa. Sen painopiste on ollut kulttuuriperimään, terveystietoon, biologiaan, lainsäädäntöön ja muihin aloihin liittyvien aineistojen ja ilmiöiden semanttinen mallintaminen, näihin liittyvät laajat tietoinfrastruktuurit sekä aineistojen julkaiseminen älykkäinä verkkopalveluina. Toteutetuilla pilottijärjestelmillä, kuten sanastopalvelut ONKI ja Finto, avoimen linkitetyn datan palvelu Linked Data Finland sekä sovelluksilla MuseoSuomi, TerveSuomi, Kulttuurisampo, Kirjasampo ja Sotasampo, on ollut kymmeniä tuhansia käyttäjiä kuukaudessa. Kansainvälistä yhteistyötä tehdään mm. Oxfordin, Stanfordin, Coloradon, Pennsylvanian ja monen muun yliopiston kanssa.
Hyvönen oli 80- ja 90-luvuilla käynnistämässä tekoälyn tutkimusta Suomessa Teknillisessä korkeakoulussa ja VTT:llä. 2000-luvulla hän on ollut keskeisesti mukana semanttisen webin tutkimuksen ja älykkäiden verkkopalveluiden kehittämisessä sekä Helsingin yliopistossa että Aalto-yliopistossa.
Vuoden Norssi on lakitettu vuosittain yhtäjaksoisesti vuodesta 1967, jolloin Norssi vietti 100v-juhliaan. Aikaisempia Vuoden Norsseja ovat mm. akateemikot Rolf Nevanlinna ja Matti Kuusi, oikeuskanslerit Risto Leskinen ja Kai Korte, hengenmiehet Eero Huovinen, Aimo T. Nikolainen ja Mitro Repo, kansliapäälliköt Kauko Sipponen, Raimo Pekkanen ja Lauri Tarasti, olympiamitalistit Esko Rechardt ja Olli Laiho, muusikot Paavo Berglund, Kari Rydman ja Heikki Sarmanto, ylipormestarit Teuvo Aura ja Kari Rahkamo, urheilijat Pertti Alaja ja Anu Koivisto, kenraali Jaakko Valtanen, pankinjohtaja Matti Virkkunen, työmarkkinajohtaja Jaakko Salonius, tiedemiehet Jussi Huttunen, Matti Klinge, Jaakko Frösen ja Olli Lounasmaa, diplomaatit Max Jakobson, Heikki Brotherus ja Ossi Sunell sekä näyttelijä Lasse Pöysti. Arvonimestä päättää Vanhojen Norssien hallitus (http://norssit.fi).