Sampo-UI
Sampo-UI is a framework for developing user interfaces for semantic portals (Ikkala et al., 2022). The underlying ideas of the framework are based on the "Sampo" model that contains a sustainable business model for publishing and sharing Linked Data based on a shared ontology infrastructure, the idea of providing the end user with multiple application perspectives to the Linked Data, and a two-step usage cycle based on faceted search combined with ready-to-use data-analytic tooling (Hyvönen, 2023). The framework draws from longstanding research of the Semantic Computing Research Group (SeCo) since 2002 on developing a national Semantic Web infrastructure in Finland and semantic portals, which has resulted in publishing a series of "Sampo portals>"", mostly related to the Cultural Heritage domain, that have had millions of end users on the Web.
The Sampo-UI framework makes it possible to create highly customizable and responsive user interfaces that satisfy the requirements for such portals using current state-of-the-art JavaScript libraries and data from SPARQL endpoints, while saving substantial coding effort. Sampo-UI is published on GitHub under the open MIT License and has been utilized in several internal and external projects.
For more information about the "Sampo" model and how Sampo-UI has been applied in semantic portals see the
Sampo portals homepage
.
Open Software Available
Sampo-UI is available on GitHub: https://github.com/SemanticComputing/sampo-ui.
Tutorial: How to Create a Semantic Portal Using the Sampo-UI Framework
Sampo-UI has turned out to be an easy to use and efficient tool for developing portals on SPARQL endpoints: it has been used no only by its developers in the SeCo research group but also by external users. A detailed tutorial is available explaining how to install the needed sofware a and configue a template portal easily for a new application on top of basically any SPARQL endpoint.
There is also a video availble on how to create a Sampo portal using Sampo-UI.
Demo Portal
An example portal built with the latest version of Sampo-UI is published at sampo-ui.demo.seco.cs.aalto.fi. It combines sample perspectives and templates from existing portals, and can be used for testing and as a "starting base" for developing new user interfaces.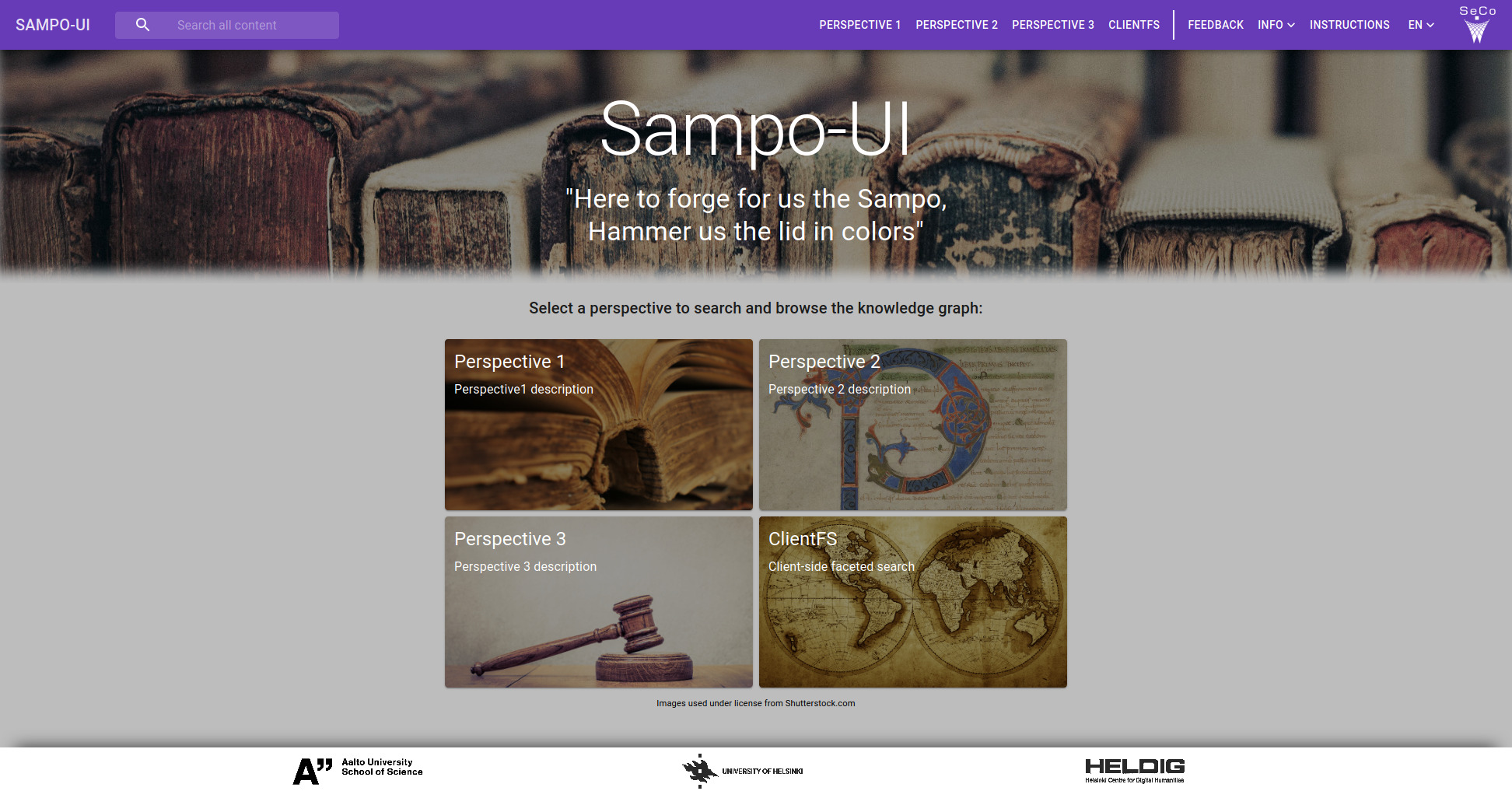 Contact:
MSc Heikki Rantala
Aalto University, Semantic Computing Research Group
firstname.lastname@aalto.fi
MSc Annastiina Ahola
Aalto University, Semantic Computing Research Group
firstname.lastname@aalto.fi
Prof. Eero Hyvönen
Aalto University and University of Helsinki (HELDIG)
firstname.lastname@aalto.fi
Publications
2023
2022
2021
2020