Finnish Ontology Library Service ONKI
The Finnish Ontology Library Service ONKI is a pilot version of a national, centralized ontology library and related ontology services. The system was created as a part of the National Semantic Web Ontology Project in Finland (FinnONTO 2003-2012) project by the SeCo group.
ONKI Ontology Library Server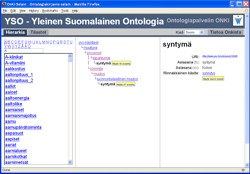 The core component of the ONKI service is its Ontology Library Server ONKI. It constitutes an important component of the Finnish semantic web infrastructure developed in the FinnONTO project.
There are three versions of the ONKI server available:
ONKI SKOS for lightweight vocabularies in SKOS and ontologies in RDFS/OWL format
ONKI Geo for geo-ontologies with map support
ONKI People for representing people and organizations (and similar datasets of individuals)
ONKI Light is a SPARQL-based ONKI server implementation which is currently under development. The purpose of the project is to find out if a SPARQL endpoint can provide enough functionality for the whole ONKI service. See the project's Google Code page for further information.
The Finnish Ontology Library Service ONKI is targeted for three user groups:
For an ontology developer, ONKI provides the collaborative ontology development and versioning environment.
For a content indexer, ONKI provides a web-based browser (called ONKI browser) for finding desired concepts and for transporting the corresponding URI or other data from the ONKI server into an external application.
For an information searcher, ONKI browser can be used for finding and disambiguating keyword meanings, and for transporting the corresponding URIs into search engines and other applications. For example, by typing in "bank" the browser finds the different meanings of the word and shows them to the user.
Integrating ONKI servers to indexing systems using the mash-up approach
The ONKI server can be integrated easily and cost-efficiently to existing content management systems (CMS) and other indexing applications using the mash-up approach, which has been demonstrated in the ONKI annotation demo. The instructions on how to integrate the ONKI server to indexing systems can be found on the ONKI Selector Generator page. See also publications below for more information.
Demonstration Applications
Selected installations of ONKI can be found below for testing:
See the Finnish Ontology Library Service ONKI for a variety of ontologies and related services available on the web.
Contact the ONKI Team
Descriptions of ontologies developed at SeCo can be found here.
Articles
2018
2017
2016
2015
2014
2013
2012
2011
2010
2009
2008
2007
2005
---
in Finnish:
ONKI - Kansallinen ontologiakirjastopalvelin
Täkeimpänä ontologiapalveluiden kehityskohteena FinnONTO-projektissa on kansallinen ontologiakirjasto ja -palvelin ONKI. ONKI tarjoaa palveluja kolmelle käyttäjäryhmälle:
Ontologian kehittäjät saavat työvälineen hajautetun ontologiakehityksen koordinoimiseksi ja tueksi. Järjestelmän avulla eri sanastoja kehittävät työryhmät voivat ottaa käyttöönsä toistensa määrittelemiä käsitteitä, hallita ontologioiden versiointia, pysyä ajan tasalla toisten ontologioiden muutoksista jne.
Tiedon indeksoijalle on tarjolla selainperustainen web-palvelu, jolla sisällönkuvailussa tarvittava käsite voidaan vaivattomasti löytää ja siirtää web-palvelun kautta ulkoiseen sovellukseen, esimerkiksi museon luettelointijärjestelmään.
Tiedon hakijalle on tarjolla edellisen kaltainen selainperustainen palvelu, jolla voidaan helposti muodostaa ontologiaperustaisia kyselyjä. Näin voidaan esimerkiksi erottaa hakusanan "Nokia" merkitys yrityksenä ja kuntana tai se, onko "johtamisessa" kyse yrityksen, sähkön, kaavan, vai musiikin johtamisesta. Edelleen voidaan löytää johtamista käsittelevät dokumentit (web-sivut), vaikka niissä puhuttaisiin johtamisesta eri sanoin tai eri kielillä.
(Katso demo-sovellus.)