DigiNUMA:

Digital Solutions for European Numismatic Heritage
DigiNUMA is an interdisciplinary project (2021-2023) in Digital Humanities (DH), participatory heritage, semantic computing, museum collections management, and archaeological/numismatic studies addressing challenges in creating, publishing, and analysing archaeological cultural heritage 'big data'. The project develops an ontological infrastructure and a methodological proof-of-concept model for finely-grained Linked Open Data (LOD) harmonisation across national and international databases that contain archaeological finds data in Finland, the U.K., and EU. The temporal focus of the project is on medieval times and Viking age.
Objective
Our goal is to create and test through data analysis a data model for international numismatic data, apply it to Finnish and international archaeological coin collections (British Museum / Portable Antiquities Scheme (PAS)), and test/show its usability in Digital Humanities research and applications for the public.
Research Question
What new research potential for transnational archaeological/cultural heritage research is unlocked through the creation of a proof-of-concept LOD data model and data service for numismatic data?
Datasets
The datasets researched include the PAS database, coin data in the FHA's archaeological collections and in the Coin Chamber of the National Museum of Finland, and coin finds data in the Ilppari reporting service of the Finnish Heritage Agency (FHA).
Methods
We develop methods for Digital Humanities (DH) analysis and visualization, semantic web technologies, and Knowledge Discovery.
Outcomes
Proof of concept linked data model and datasets conforming to it and Nomisma.org ontology for FHA and British Museum collection data. A data service and portal demonstrator "CoinSampo" based on applying the Sampo model. Peer reviewed scientific articles.
Wider Importance
DigiNUMA supports ongoing international efforts for creation of transnational DH Cultural Heritage databases, web services, and citizen science archaeology programs. The work contributes to the ongoing DARIAH-EU inftrastructure work and Pan-European AriadnePlus.eu programmes that the team participates currently in.
Project Consortium
Our work is funded by the Jenny and Antti Wihuri Foundation, Helsinki Institute for Social Sciences and Humanities, and Aalto University.
Research Team at the University of Helsinki and Aalto University
Advisory Board
The DigiNUMA Advisory Board includes Professor Michael Lewis (British Museum), Dr David Wigg-Wolf (German Archaeological Institute and Nomisma.org), Dr Frida Ehrnsten (National Museum of Finland) and Ville Rohiola (Curator at Archaeological Collection, FHA) acting as external advisors.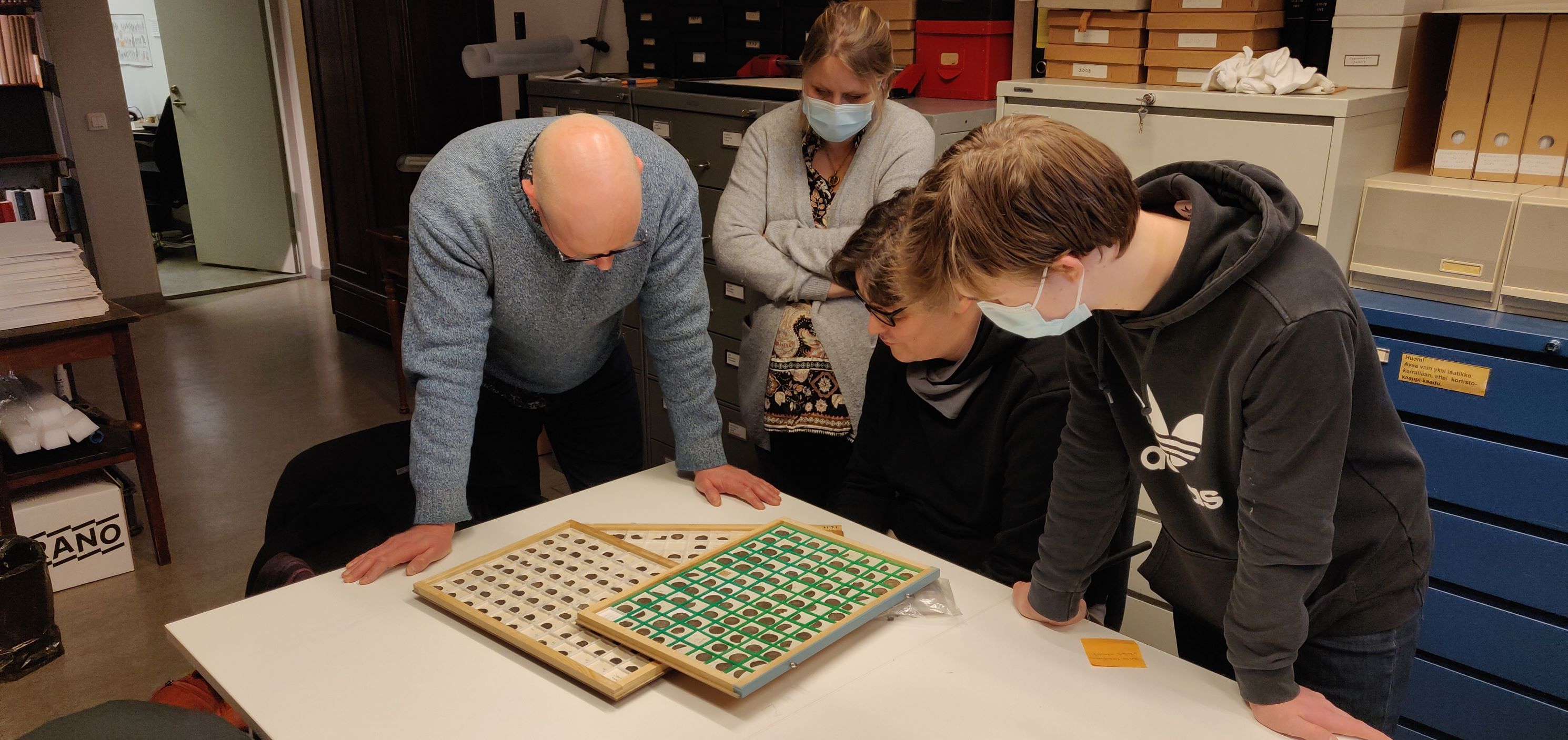 Studying Viking Age dirhems at the Coin Cabinet of the National Museum of Finland. From left to right, Eljas Oksanen, Frida Ehrnsten, Heikki Rantala and an apprentice of the Cabinet. Foto: Eero Hyvönen.
---
Publications
2022
2021