KUTSU JULKISTUSTILAISUUTEEN
Kansallisarkisto, Aalto-yliopiston Semanttisen laskennan tutkimusryhmä (SeCo) ja Helsingin yliopiston digitaalisten ihmistieteiden keskus HELDIG kutsuvat Teidät avoimeen julkistustilaisuuteen:
| | |
| --- | --- |
| | Sotasurmasampo 1914-1922 |
Keskiviikkona 20.11.2019, klo 10:00–12:00
Kansallisarkisto, Vanha tutkijasali, Rauhankatu 17, Helsinki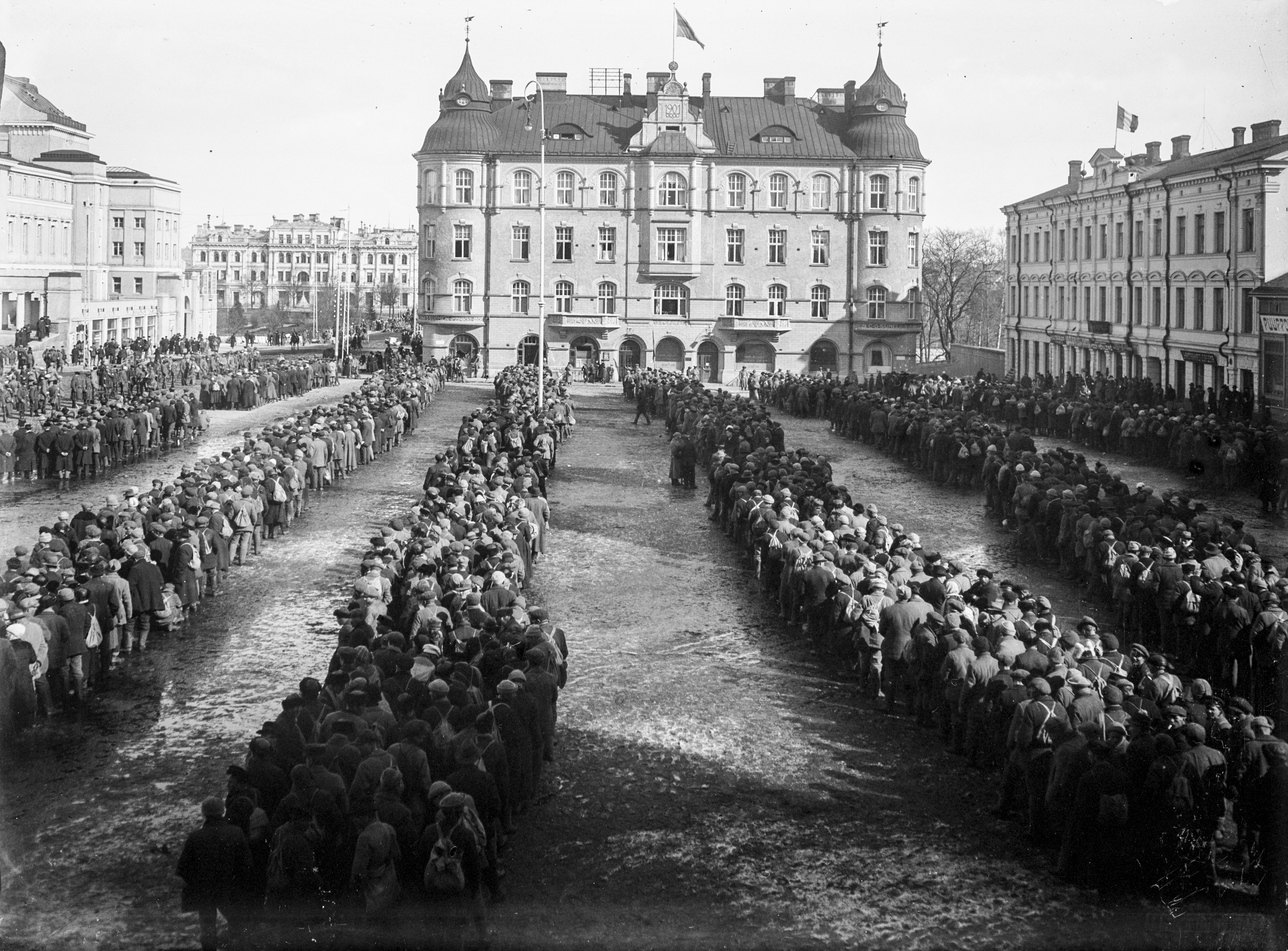 Punavankeja Tampereen Keskustorilla 6.4.1918. (CC-BY Tampere 1918, kuvaaja E. A. Bergius, Vapriikin kuva-arkisto.)
Tilaisuudessa avataan ja esitellään uusi, linkitettyyn avoimeen dataan perustuva data- ja verkkopalvelu Sotasurmasampo 1914-1922:
Sotasurmasampo uudistaa ja laajentaa Kansallisarkiston aiemman Sotasurmat 1914-1922 -tietokantapalvelun semanttisen webin teknologioiden avulla. Aineistoja on hankkeen puitteissa laajennettu merkittävästi eri lähteistä ja mukaan on otettu mm. sisällisodan taisteluihin liittyvä uusi tietokanta. Järjestelmä tarjoaa tutkijalle paitsi aiempaa huomattavasti monipuolisemman "älykkään" hakukoneen aineistojen suodattamiseen myös lukuisia valmiita data-analyyttisiä työkaluja ja visualisointitapoja sotasurmien tutkimista varten. Suodatetut sisällöt voi myös helposti ladata omalle koneelle jatkokäsittelyä varten esimerkiksi taulukkolaskentaa varten.
Sotasurmasampo 1914-1922 julkaisee ensimmäistä kertaa sotasurma-aineistot avoimena linkitettynä datana, joka on vapaasti selattavissa ja ladattavissa Linked Data Finland -palvelussa LDF.fi sekä hyödynnettävissä SPARQL-palvelupisteen kautta.
Järjestelmä on ideoitu, suunniteltu ja toteutettu Aalto-yliopiston ja Helsingin yliopiston HELDIG-keskuksen Semanttisen laskennan tutkimusryhmässä (SeCo) yhteistyössä Kansalliarkiston tutkijoiden kanssa ja opetus- ja kulttuuministeriön rahoituksella. Järjestelmä on uusi jäsen kansainvälisesti ja kotimaassa palkittujen semanttisen webin "Sampo"-portaalien sarjassa ja hyodyntää kansallista semanttisen webin infrastruktuuria LODI4DH.
Lisätietoa hankkeesta löytyy projektin kotisivulta.
Ohjelma 10:00–12:00
10:10-10:20 Sotahistoriallisten aineistojen julkaiseminen semanttisessa webissä. Professori, johtaja Eero Hyvönen, Aalto-yliopisto ja Helsingin yliopisto (HELDIG) kalvot/PDF
10:20-10:50 Sotasurmatietokannan päivityshanke ja uudet tutkimustulokset. FM Ilkka Jokipii, Kansallisarkisto ja Helsigin yliopisto
11:15-11:30 Kysymykset ja keskustelua
Julkistustilaisuuden jälkeen on mahdollista tutustua näyttelyyn "Kolme eurooppalaista tragediaa" sekä lounaan jälkeen klo 13:00-15:00 osallistua iltapäivän englannikieliseen seminaariin "Remembering Civil Wars: The Civil Wars of Finland, Spain and Greece and the Modern Memory".
Tarkemmat koko päivän ohjelman tiedot ja ilmoittautuminen
Tarkemmat tiedot ja ilmoittautuminen tilaisuuteen löytyvät Kansallisarkiston
tapahtumasivulla
.
---
Publications
2023
2022
2021
2020
2019