CultureSampo - Finnish Culture on the Semantic Web 2.0
What is CultureSampo?
CultureSampo (Kulttuurisampo in Finnish) a semantic web 2.0 portal and a publication channel for Finnish cultural heritage based on semantic web and Web 2.0 technologies. The system consists of three components:
The FinnONTO National Semantic Web Content Infrastructure and the National Ontology Library Service ONKI based on W3C Semantic Web recommendations and best practices. See the paper describing the FinnONTO approach presented at the ESWC-2008 conference for more details.
A content creation process based on a variety of metadata schemas, tools such as ONKI, SAHA, POKA and VERA, and exististing Web 2.0 services, such as Wikipedia and Panoramio.
The semantic web 2.0 portal CultureSampo itself.
Cross-domain contents from over 20 Memory Organizations and Web 2.0 Sources
The contents of the portal first public version come from over 20 different Finnish museums, libraries, archives and other source, as well as from the Getty Foundation, Wikipedia, Geonames, and Panoramio. The system aggregates cross-domain content of various kinds including artifacts, paintings, scuplture, drawings, abstract art, novels, comics, web pages, folklore and runes of different kinds, fictive persons and places, folk music, photos, aerial photos, persons, organizations, biographies, historical events, cultural processes, handicfraft skills, videos, buildings, and cultural sites.
Cultural Heritage on the Semantic Web 2.0
Research and development of CultureSampo started in 2003 and is continuation of our work on the semantic portal MuseumFinland - Finnish Museums on the Semantic Web available since March 2004 at http://www.museosuomi.fi/.
CultureSampo generalizes MuseumFinland in many ways:
Dealing with cross-domain heterogeneous contents. The portal contains not only artfacts, as MuseumFinland, but cultural heritage contents of virtually any forms.
Event-based knowledge representation. From the knowledge representation viewpoint, the major new idea in CultureSampo is to use event-based modeling for representing implicit knowledge embedded in the various metadata schemas of the content types, for more detailed annotations of e.g. images, narrative stories, and historical events, and for making all this metadata mutually interoperable on the semantic level.
New forms of semantic search. For content accessing, two semantic search paradigms have been developed: Faceted search paradigm is being extented e.g. to dealing with heterogeneous metadata formats and for "automatic exhibition generation" for viewing search results in two orthogonal dimensions. In addition, "relational search" where associations between search objects are being searched is being developed to answer questions such as "How is Picasso related to Paris".
New forms of semantic browsing. New methods for creating automatically semantic recommendation links are being developed in CultureSampo. These methods utilize the rich event-based knowledge representation scheme in use in the portal.
Visualization and mash-ups. The results are visualised using mash-ups and graphics. CultureSampo uses e.g. Google maps that may be layered dynamically with old historical maps. Timelines are used for projecting contents along the time dimension, and graphs fo visualizing semantic relations between e.g. different artists.
Web 2.0 Content Creation. Content can be created in a collaborative Web 2.0 fashion.
A description of the CultureSampo system, including the portal, the underlying national FinnONTO semantic web infrastructure, and the content creation process, is presented in the report CultureSampo - Finnish culture on the Semantic Web. A national collaborative Semantic Web 2.0 portal for memory organizations and citizens (in Finnish). Other descriptions of the system in English can be found in the papers available online below in the Publications section.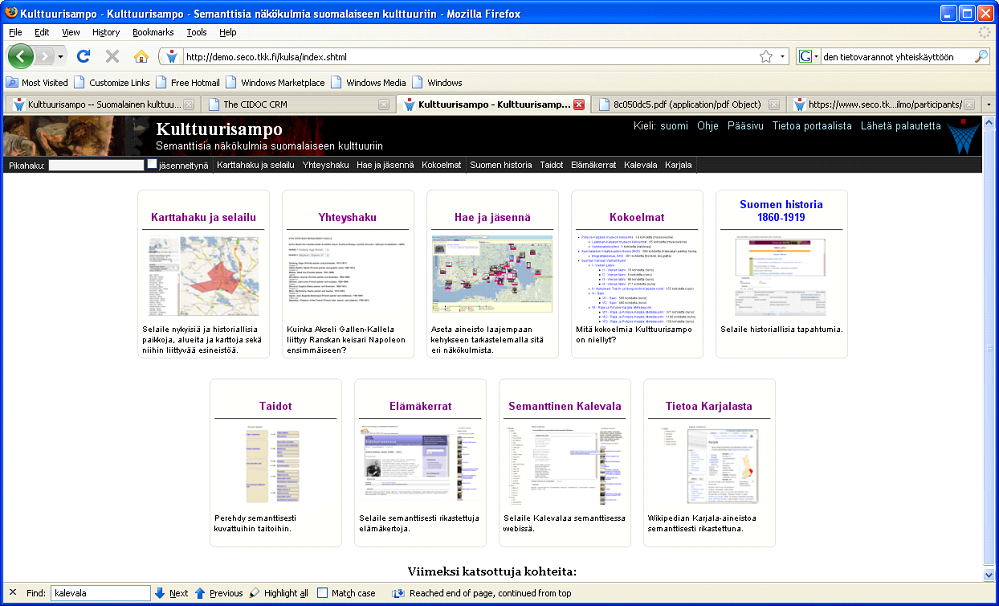 Figure. Nine semantic perspectives to cultural heritage available in CultureSampo: Maps and historical places, relational search, faceted domain-centric browsing, collections, Finnish history, cultural processes and skills, biographies, semantic Kalevala, and Carelia.
Public Portal On the Web
CultureSampo portal prototype was published on September 25, 2008, at a publication event at the National Museum of Finland.
The portal is online at: http://www.kulttuurisampo.fi/.
Using the Portal with Web 2.0 widgets
CultureSampo portal can be used by not only people but by other portals (machines) on the web, based on our floatlet widget technology. For example, to include contents from CultureSampo services on this very page you can write a search word in the input field below:
Type in a search word here and you get related results with semantic links to CultureSampo below:
Loading..
Contact
Dr Eetu Mäkelä
Helsinki University of Technology, Department of Media Technology
first.last [ at ] tkk.fi
Professor Eero Hyvönen
Helsinki University of Technology, Department of Media Technology and University of Helsinki
first.last [ at ] tkk.fi
Participating Cultural Organizations
The content of CultureSampo is based on collections of several Finnish museums, libraries, and archives. See the Collections view in the portal for more details. In addition, various International repositories such as Wikipedia, Geonames. Panoramio, and the Universal List of Artists Names (ULAN) of the Getty Foundation are used for content.
Funding Organizations
Work on CultureSampo is funded by the following organizations:
Publications about CultureSampo
2023
2022
2020
2019
2012
2011
2010
2009
2008
2007
2006