Poka - A framework for automatic annotation
Poka provides a basis for the automatic extraction of the ontological concepts. The main features of the Poka framework are:
Efficient adaptation of user-defined ontologies as vocabularies.
Building indices for the concepts found in the documents.
Tagging the concept locations inside the document.
Pipelining the vocabularies and rule-based extraction tools for complex tasks.
Applications
In the following the characteristics of Poka are introduced shortly via the applications. Each bullet describes a way that the application utilizes Poka.
Opas
Opas is an ontology-based annotation and authoring tool for a library help desk service. It uses Poka to extract ontological concepts and person names from the input text. The main characteristics of the system from the Poka's viewpoint are:
Extraction of common nouns from YSO ontology.
Extraction of places from a place ontology.
Extraction of person names using Poka's person name recognition tool.
Lemmatized extraction of resources: both the ontological terms and question-answer texts are lemmatized to achieve better recall.
Excluding, ordered pipeling of different resource types: first, persons are extracted, second, the places and third, the common nouns. Person name tokens found are excluded from the document and can not be recognized as place or common noun resource. Similarly, place tokens found are excluded as not being potential common nouns. With the exclusion, simple disambugation between different resource types is achieved.
DynaPoka
DynaPoka is a dynamic user interface for integrating ontologies for the extraction task.
Handles user-defined (RDFS, OWL) ontologies.
A tool to examine the literal values of an ontology (that is, which literal values are reasonable to use in a certain extraction task).
The concept strings to be extracted may be chosen from the ontology by

defining class range(s)
choosing language(s)
choosing literal properies

Supports (Finnish) lemmatization of the concepts (by Connexor).
Selected concept strings act as a terminology and can be tested with a in-frame browser that tags the concepts to the current web page.
Supports RDF serialization of terminologies. Serialized version (a term file) act as a preprocession stage in complex extraction tasks.
Saha
Saha is a general, browser-based annotation tool. Poka is utilized for searching ontological concepts from the web page being annotated. Each extraction component is mapped to a object property of Saha's annotation schema. With DynaPoka, new ontologies may be harnessed for the Saha's extraction task.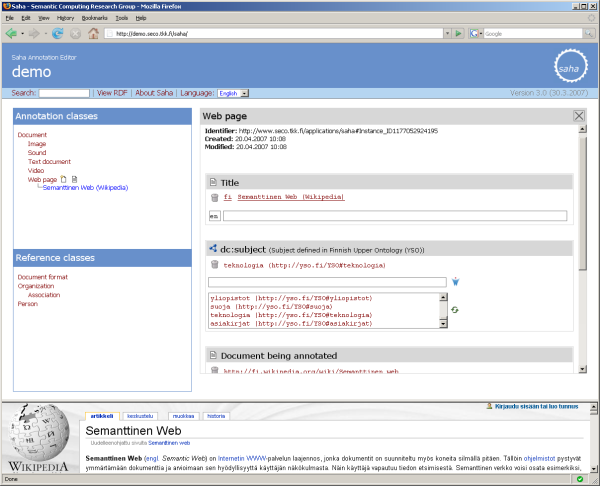 Airo
Airo is an automatic annotation and search system developed for Sanoma Data. It utilizes Poka to find basic occurences of ontological concepts. Found concepts are postprocessed to achieve automatic disambiguation between the occurences.
---
2009
2008
2007
2006
Contact:
Olli Alm
Helsinki University of Technology, Laboratory of Media Technology and University of Helsinki
Olli Alm [at] tkk fi
Prof. Eero Hyvönen
Helsinki University of Technology, Laboratory of Media Technology and University of Helsinki
eero.hyvonen [at] tkk.fi