| | |
| --- | --- |
| NameSampo: A Linked Open Data Infrastructure and Workbench for Toponomastic Research | |
One of the Institute for the Languages of Finland's archives, the Names Archive contains valuable information for onomasticians and linguists, as well as for archaeologists, historians, folklorists, and natural scientists. The corpora of place names in the Names Archive was converted into a digital archive in 2014–2017. The objective of the project was to convert the place name entry slips, collection maps, and the attribute and metadata related to them into digital format.
The goal of the NameSampo project is to first convert, enrich and publish the ditized Names Archive as Linked Open Data. After that, the focus is on creating a flexible, easy to use workbench of search, data analytic, and visualization tools by utilizing the Linked Data infrastructure, various external map and data sources, and a collaborative workflow between onomasticians and computer scientists. The intent is that a wide variety of toponomastic research questions can be addressed interactively using a web browser.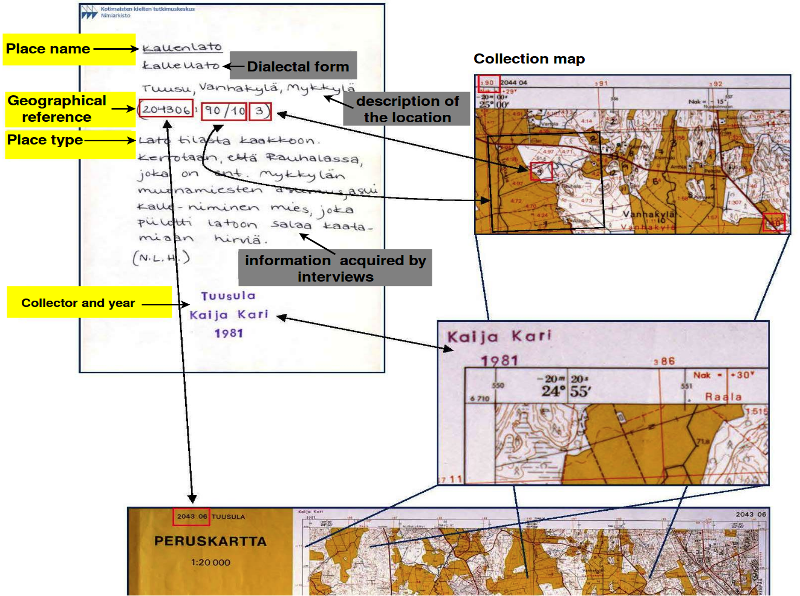 Portal and Linked Data Service Online
NameSampo portal is online at nimisampo.fi after Feb 1, 2019.
NameSampo is based on a Linked Data Service published on the Linked Data Finland platform (http://ldf.fi).
The old maps used in NameSampo, Senaatin Atlas (1:21 000 topographic) and Karelian Maps (1:100 000 topographic) are available for use in the MapWarper service (Tiles, WMS, and KML interfaces).
Source code is available on GitHub.
Funding
Our work was supported by the University of Helsinki Future Fund.
Contact Persons
Eero Hyvönen, University of Helsinki (HELDIG) and Aalto University
Esko Ikkala, Aalto University and University of Helsinki (HELDIG)
Jouni Tuominen, University of Helsinki (HELDIG)
Team at the University of Helsinki: Terhi Ainiala, Jaakko Raunamaa, and Tiina Aalto
Representative of Kotus, Institute for the Languages of Finland: Helinä Uusitalo
---
Publications
2023
2022
2020
2019
2018