Opintie - a Semantic Portal for learning
Try Opintie.
Opintie portal will contain variety of learning materials, aiming to introduce a way to make learning materials interoperable among different producers of learning materials. Another important goal is to organize and visualize material in an intuitive way for learner.
Opintie is spiritual successor to earlier Orava, although technically totally different.
---
Opintie-portaali sisältää opetusmateriaaleja Klaffista ja historiaalisia aineistoja YLE:n Elävästä arkistosta.
Opintie on henkinen jälkeläinen aiemmalle Orava-järjestelmälle, vaikkakin laajempi, teknisesti erilainen ja käyttöliittymältäänkin erilainen.
---
Opintie-käyttöliitymä, vasemmalta voi valita kategorian tai keskellä olevasta tekstikentästä voi tehdä sanahaun.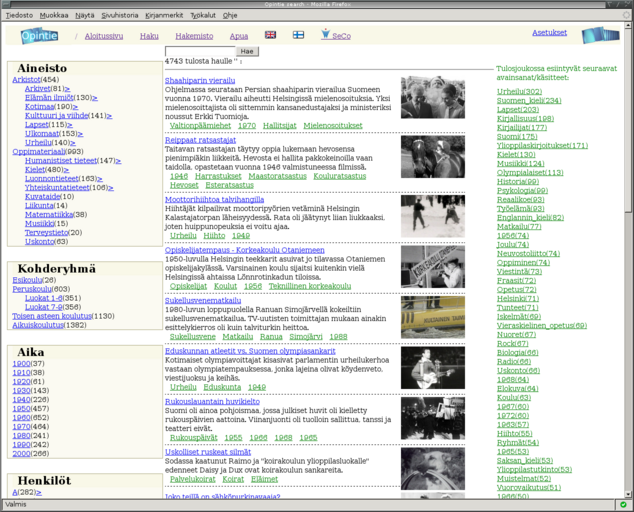 Opintien hakutulokset näytetään keskellä, vasemmalta voi valita kategorian, tekstikentästä tehdä uuden sanahaun tai rajata edellistä hakua. Oikealla näytetään haun ja tuloksen kannalta relevantteja käsitteitä joita klikkaamalla voi rajata hakua edelleen.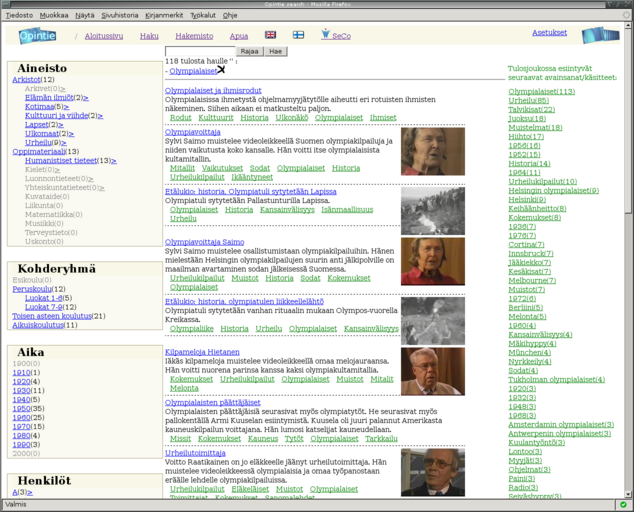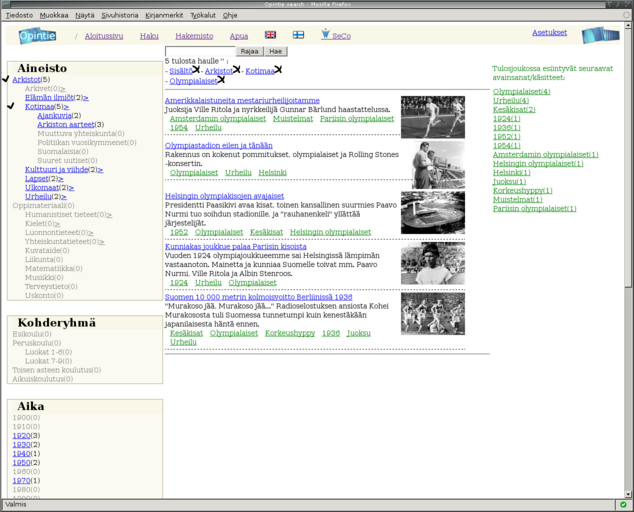 Kohde näytetään oikealla ja muita mielenkiintoisia kohteita suosittellaan ohessa. Haun tulokset ja hakeminen toimii ja näkyy samalla lailla kuin muulloinkin.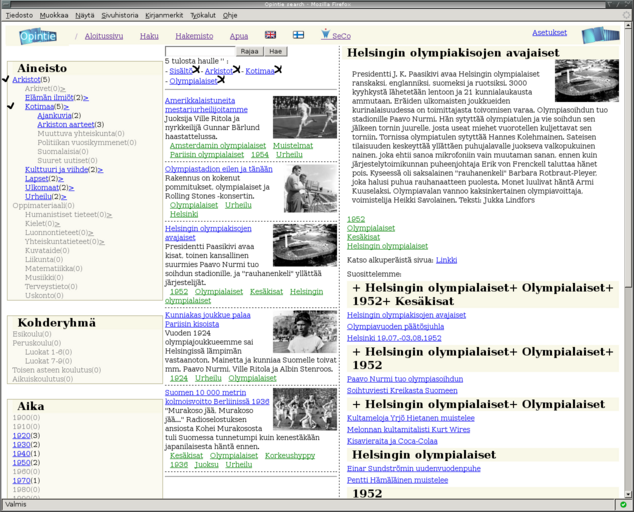 ---
Kokeile Opintietä täällä.
Contact person:
Teppo Känsälä
Helsinki University of Technology, Laboratory of Media Technology
teppo . kansala [at] tkk.fi