IRMA - intelligent metadata assistant
IRMA is an intelligent ontology-based annotation assistant aimed to facilitate the annotation process by visualizing the ontological hierarchy of concepts. In annotation process, especially if the user is not familiar with the available ontologies, it might not be trivial task to find most appropriate and suitable concept. Thus showing the context would not only familiarize the user with the vocabulary but also provide possibilities to view the ontological neighbourhood of a concept to find more accurate terms.
The main features of IRMA are:
Visualizing the context of the annotation concept
Concept retrieval is eased with sematic autocompletion utilizing multiple ontologies
IRMA is modular and extensible: custom context providers can be registered for particular classes and ontologies (for example visualizing a place ontology instance on Google Maps).
The picture below depicts a situation where the user is annotating e.g. a painting with subject of a cosmic serpent. The first term user thinks is "reptiles". User types the beginning of the word to input box. All matching labels from three vocabularies (YSO: Upper Finnish Ontology, Iconclass keywords and Iconclass classes) are displayed in the list color-coded according to source. Only Iconclass classes can be used to annotate with, but the others can act as useful starting points in ontology browsing. User can explore the context hierarchy of the interesting concept "reptiles" by clicking on top of it. User may also further explore the context hierarchy, for example the related concept "terrarium".
IRMA can be integrated with a HTML-based annotation editor by adding two lines of JavaScript code to the editor. IRMA may also be utilized with the ontology server Onki.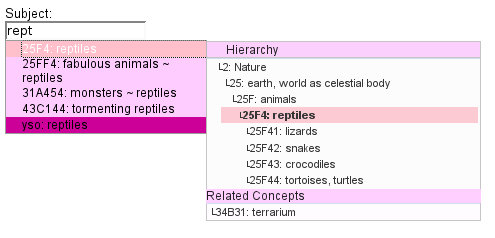 Articles
2008
2007
Contact:
Reetta Sinkkilä
Helsinki University of Technology, Laboratory of Media Technology and University of Helsinki
Reetta Sinkkila [at] tkk fi
Professor Eero Hyvönen
Helsinki University of Technology, Laboratory of Media Technology and University of Helsinki
eero hyvonen [at] tkk fi

---
in Finnish:
Irma
IRMA on annotoijan älykäs apuväline. Se pyrkii helpottamaan sisällönkuvailua visualisoimalla annotoitavan käsitteen kontekstin ja toisaalta tarjoamaan käyttäjälle mahdollisuuden tutustua ontologiaan ja löytämään helposti tarkkoja käsitteitä annotointiin. IRMAn avulla voidaan käyttää annotoinnissa useita ontologioita samanaikaisesti tai se voidaan konfiguroida priorisoimaan tiettyä ontologiaa.
IRMA voidaan yhdistää HMTL-pohjaiseen annotaatioeditoriin liittämällä editorin syötekenttään JavaScriptillä kutsu IRMAan. Mahdollinen käyttöalusta voi esimerkiksi olla ontologiapalvelin Onki.
Esimerkissä käyttäjä on luetteloimassa kuvassa näkyvää Ouroborosta, kosmista lohikäärmettä. Ensimmäinen annotoijan mieleen tuleva termi on "matelija". Käyttäjä kirjoittaa sanan alun syötekenttään ja kaikki täsmäävät käsitteet kolmesta sanastosta (Yleinen suomalainen ontologia (yso), Iconclass-asiasanat (ick) sekä varsinaiset Iconclass-luokat) näytetään listassa värikoodattuna lähteen mukaan. Käyttäjä voi tarkastella esimerkiksi Iconclass-luokan "matelijat" kontekstia, ja näin löytää paremmin aihetta kuvaavan termin "käärmeet". Käärmeisiin liittyy täsmällisempi käsite Ouroboros, jota käyttäjä ei ehkä suoraan olisi huomannut etsiä.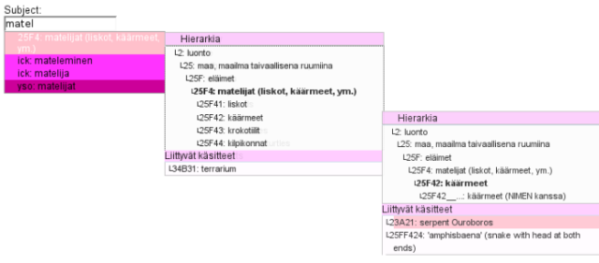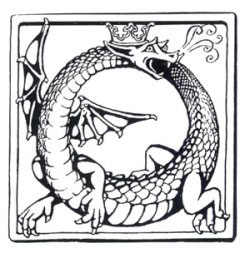 2008
2007
Lisätietoja:
Reetta Sinkkilä
Teknillinen korkeakoulu, Viestintätekniikka ja Helsingin yliopisto
reetta sinkkila [at] tkk fi

Professori Eero Hyvönen
Teknillinen korkeakoulu, Viestintätekniikka ja Helsingin yliopisto
eero hyvonen [at] tkk fi