ONKI SKOS Server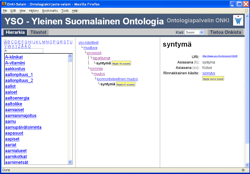 ONKI SKOS is a server for lightweight vocabularies in SKOS and ontologies in RDFS/OWL format. Using ONKI SKOS, a vocabulary with related AJAX mash-up and Web Service support can be published and used in applications cost-efficiently with very little extra work.
See Finnish Ontology Library Service ONKI for a variety of ontologies and related services available, as well as further instructions of using ONKI SKOS.
The ONKI SKOS software (Java web application) including the source code is available here: onki-skos-20121221.zip. See README.TXT and INSTALL.TXT for documentation. The software is distributed under the MIT license.
Articles
2012
2010
2009
2008
Contact Persons
Doctoral candidate Jouni Tuominen, Professor Eero Hyvönen